TUTORS
---
Portland Literacy Council partners with Portland Community College's Volunteer Literacy Tutor Training Program to provide tutor training in the metro area.
What does a volunteer tutor do?
Depending on the literacy program you choose, you might work one-to-one with a student, work with a small group, or work as a classroom aide.
Who would I tutor?
You would work with adult learners: immigrants, refugees, and native English speakers with less than 8th-grade literacy skills.
See the list of Portland-area programs below that use volunteer tutors.
What does it take to be a successful tutor? What is the time commitment?
Can you answer Yes to the following questions?
Can you commit to a two-day workshop held on consecutive Saturdays from 9 am to 4 pm?
Can you volunteer 2 to 4 hours per week for 6 months?
Would you describe yourself as flexible, patient, and dedicated?
Do you have a sense of humor?
If you answered Yes to all of these questions, you are a good volunteer tutor candidate, and we'd like you on our team.
If you feel that volunteer tutoring isn't the right fit for you, and you still want to volunteer your time, let us know. Tutoring programs may need assistance with clerical tasks, computer work, or other functions.
Contact: kris@portlandliteracy.org
---
VOLUNTEER TUTOR TRAINING
Five tutor training workshops are scheduled in the Portland Metropolitan area for academic year 2015-16. Registration opens about 4 weeks before each session, and closes when we have reached the maximum attendance, or at midnight the Thursday before each session, whichever occurs first.
---
Workshop Description
The training covers foundations and tutoring strategies for teaching listening, speaking, reading, and writing to adult learners. (Math and GED test preparation are not included.)
Tutor training includes a 2-day workshop, held on consecutive Saturdays from 9 am to 4 pm.
---
Workshop Fees
Local Program Volunteer $25
Nonlocal Program Volunteer $50
Payment is due upon registration. Pay online when registering or send a check payable to Portland Literacy Council.

Send check to:

Portland Literacy Council
Attention: Sue Murray
P.O. Box 2872
Portland, OR 97208-2872
---
Tutor Training Attendance Policy
If you register for tutor training, we hold a spot for you and look forward to your volunteer service. We do understand that two Saturdays for training is a significant commitment.
If you are unable to attend training, you will need to notify us of your absence so that we can serve others on the waiting list.
---
Training Attendance Expectations
If you register for training workshops, please be aware of these expectations:
Registrants will attend both training days in the session.


For absences or cancellations, registrants will notify us at least 48 hours prior to the training. In the event of an emergency, contact us as soon as possible.



Before 5pm

on the Thursday before the training, email the Portland Literacy Council registrar:

peggy.portlandliteracy@gmail.com

.


Any time on the Friday before the training, or before 9 am on the Saturday of the training, leave a voice mail at 971-722-3700.

Messages will be retrieved by Saturday morning.



Registrants who provide advance notice of their absence may attend the next scheduled training, if space is available. The registration fee, if paid, will carry over to the subsequent training. Registrants must register for the next session.


Registrants who are absent from any training day without notifying us may attend another session/day, if space is available.
There will be no payment carry-over. A new registration and payment are required.
---
REGISTER HERE
Registration for the November 7 and 14 Tutor Training sessions will open on October 7.

To see all Tutor Training dates for the 2015-2016 academic year, click the Tutor Training Schedule button.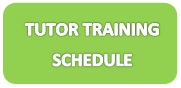 QUESTIONS?

Contact Portland Literacy Council: info@portlandliteracy.org.
---
PORTLAND-AREA PROGRAMS NEEDING VOLUNTEER TUTORS
The following non-profit agencies are seeking volunteer tutors to work with adult students. Tutors can choose to work one-to-one, with a small group, or as a program assistant. To learn more about becoming a volunteer tutor for one of these agencies, please contact them directly.
MULTNOMAH COUNTY:

English In Action: Conversation practice/ESL tutoring
First Congregational Church (back door), 1137 SW Broadway (corner of Broadway and Madison), Portland
Free, no registration required, Saturday mornings, academic year only.
Wendy Shaw, Coordinator, 503-227-8191, portlandenglish@gmail.com
Portland Community College, Cascade Campus - Volunteer Literacy Tutor Program
One-to-one and small group tutoring. ABE/GED, ESL, and Citizenship. Gale Czerski, Coordinator, 971-722-5373, gale.czerski15@pcc.edu
Portland Community College, SE Center - Volunteer Literacy Tutor Program
One-to-one and small-group tutoring. ABE/GED, ESL, and; possibly Citizenship.
Kathleen Holloway, Coordinator, 971-722-6280, khollowa@pcc.edu
Portland Community College, Sylvania Campus - Volunteer Literacy Tutor Program
One-to-one and small-group tutoring. ABE/GED, ESL, and possibly Citizenship.
Mark W. Palmer, Coordinator, 971-722-4903, mark.palmer2@pcc.edu
SE Works - WorkSource
7916 SE Foster #104, Portland
ESL classes, multi-level, free, individual tutoring. Weekly ESL computer lab, quarterly conversation potlucks,
content-specific group classes, year-round. www.seworks.org
Blair Orfall, Resource Specialist, 503-772-2341, borfall@seworks.org


SOAR Immigration Legal Services - A Program of Ecumenical Ministries of Oregon
7931 NE Halsey St., Ste. 302, Portland
Free citizenship preparation for legal permanent residents.
One-to-one and small group tutoring. www.soarlegal.org
Katherine Anderson, Coordinator,503-384-2482, ext 113, kanderson@emoregon.org

WASHINGTON COUNTY:

Beaverton Literacy Council (Beaverton)
Multi-level ESL tutoring, Citizenship tutoring, and Book Group. Beaverton Community Center, Bethel Congregational
United Church of Christ, and other locations. For class schedules see www.beavertonliteracy.org.
503-520-8764.
Centro Cultural (Cornelius)
1110 N Adair St., Cornelius
ESL, Adult Basic Education, INEA, GED classes, and citizenship classes for Spanish-speakers, year-round. Jessica Hanson, ESL Coordinator, 503-359-0446, jhanson@centrocultural.org
Dagoberto Cerrud, ABE & GED Coordinator, 503-359-0446 x35, dcerrud@centrocultural.org

PCC - Willow Creek Center, Volunteer Literacy Tutor Program
Serving west Washington County and Hillsboro. ESL classes and possibly INEA Spanish Literacy and Citizenship. One-on-one and small group tutoring.
Tracy Buseman-Carlstrom, 971-722-2516, tracy.busemancarlstrom@pcc.edu,
Edit McDonald, Coordinator, 971-722-2578, emcdonal@pcc.edu

PCC - Rock Creek Campus, Volunteer Literacy Tutoring Program
Serving Beaverton and Aloha. ESL classes, One-to-one and small group tutoring.
Edit McDonald, Coordinator, 971-722-2578, emcdonal@pcc.edu

St. Anthony Middle School
9905 SW McKenzie, Tigard.
Multilevel ESL classes, free, no childcare. Tues and Thurs eves, 10-week terms. Anamaria Torres and Jorge Londono, 971-703-8639, abarkhuff@gmail.com

Tigard Methodist Church
9845 SW Walnut Pl, Tigard.
Free ESL classes, 3 levels, open-entry, 10-week terms. Free chilcare. Paul Colligan, 971-275-3775, info@tigardumc.com

Tigard Senior Center
Meals on Wheels office, 8815 SW O'Mara St, Tigard.
Kris Magaurn, Coordinator, 503-953-8185, kmagaurn@pcc.edu

Tualatin Public Library
18878 SW Martinazzi Avenue, Tualatin.
ESOL; 1-to-1 with library patrons, 2 hours per week for at least 3 months.
Lauren Furnish, Community Librarian, 503-691-3077, lfurnish@ci.tualatin.or.us
CLACKAMAS COUNTY:

Clackamas Community College (Oregon City Campus and Harmony Campus)
Michelle Culley, Volunteer Literacy Tutor Coordinator, 503-594-3624, michellec@clackamas.edu
*Learn more about becoming a volunteer tutor by visiting the Tutor Pages of the Volunteer Literacy Tutoring Program at PCC.
---
INTERNET RESOURCES FOR TUTORS
---
ESOL Tutor and Student Learning Packets: (Download Free)
These ESOL packets were compiled by Adult Basic Skills department and Volunteer Literacy Program Coordinators at Portland Community College. The ESOL packets were made possible with the permissions of Pro Lingua Associates and New Readers Press. They are made available to PLC courtesy of the Oregon Literacy, Inc. website.
| | |
| --- | --- |
| Student ESOL Packets: | Tutor/Instructor ESOL Packets: |